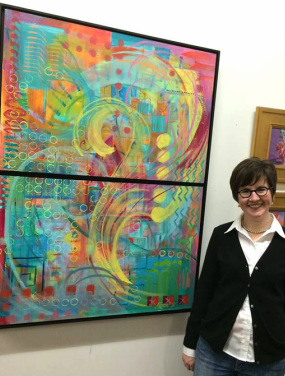 I got some GREAT news this week. My painting called Big Light was accepted into the 2015 McCullough Hyde Healing Art Exhibition. I could not be more pleased. I submitted an application for the show fairly recently, and knew that I would hear something last week. Well, the mail came, no notice. Another day, no notice. Then on Monday, we were checking the mailbox, and Gary was with me when I opened the card saying that my work had been accepted! Yay!!! You probably heard us.
Anyway, it's the first time that I've had a painting accepted into a juried show, so that's a big deal. But also, this one is special. This exhibit hangs at the McCullough Hyde Hospital in Oxford, OH. The hospital values art for it's ability to help people heal. Here is my description for the painting:
All of us make choices everyday that impact the world around us, sometimes with ripple effects. The dyptich format represents two becoming one; in community, in healing, in relationships. The movement of color, light and pattern between the canvases are words of grace, kindness, mercy and love amplified and unfurled.