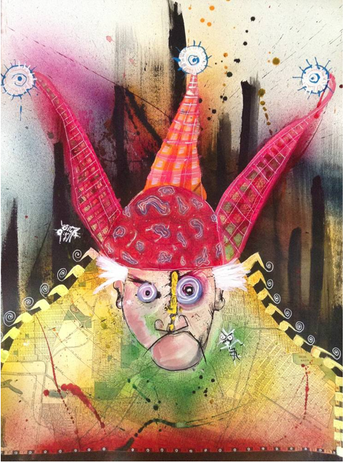 Looking at the work of comrades across the country, I found loads of inspiration this week. I'd like to point out the work of one artist in particular, Joey Feldman. He paints monsters — funny ones, scary ones; portaits and figures. This guy's imagination looks to be in overdrive. The work is dark with black ink spots and crooked lines, but characters emerge from the scribble and paint. Some of his marks look to be those of a commercial artist, washes of pink airbrush and streaks of black marker. The loops and splashes on the paper are vital and expressive, with bug-eyes that draw you in, multitudes of eyes.
I am stretching full-size sheets of watercolor paper now and am haunted and inspired by the specter of these monsters and the freedom that they represent.
Joey Feldman is a mixed media artist in LA. Check out his paintings at
www.joeyfeldman.com
.