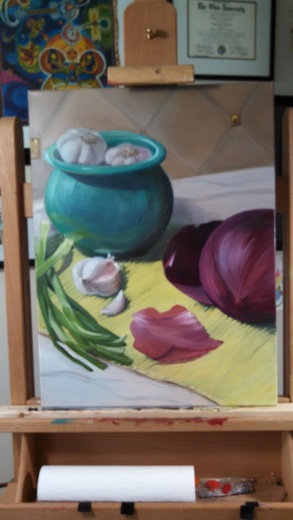 So, I said that I was going to finish this painting about 2 months ago. On that particular day, I really thought I was almost finished.

Then, I showed it to my husband, and to peers in my art group, and to peers at a formal critique at Cincinnati Art Club. This is what they call surrounding yourself with community. Well, I learned a few things.

There is a photograph of the set-up for this still life painting in an April 2014 post. Progress on the painting yielded a photo-realistic painting of the set-up (with the addition of green onions), but my reviewers all saw the same problem. There was a large, black triangle at the bottom left of the composition, and it totally dominated the scene. Also some were confused by the tile back-splash details, another suggestion was to add a reflection of the red onion in the blue pot.

Anyway, this challenge was a great opportunity for me to learn about artistic license. The countertop is now carrara marble, so the triangle shape is much more subtle. I've chosen to leave the tile as it is, for now. And I will paint in that red reflection -- then, perhaps my painting will be complete.

I think I will title this "Alliums anyone?" What do you think? I welcome your suggestions and ideas. Thanks for reading!