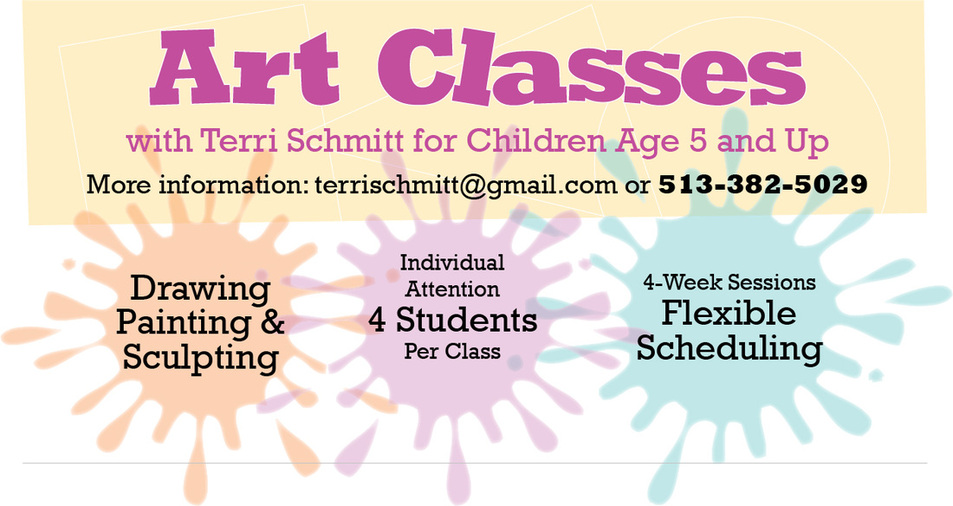 About the Teacher:

Since January of 2014, Terri has devoted her time to the study of classical drawing and painting. She paints in oil, acrylic and watercolor, as well as pastel.

Living in Cincinnati for the last 27 years, Terri has had the opportunity to study with several fine artists including Marlene Steele, the late Joseph Peters, Gail Morrison, Greg Storer and most recently with David Mueller. Terri lives in Covington, KY with her husband and their wire-haired fox terrier named Lucy. Terri is a former board member of the Cincinnati Art Club and an associate member of the Woman's Art Club of Cincinnati. You can see her work

here

.

---

Terri is teaching Art Classes for children ages 5 and up. In these classes, she shares the joy of creating art through painting, sculpting and drawing. Students will learn through guided drawing instruction, basic color mixing experience, step-by-step sculpting demonstrations, and introduction to a wide range of drawing and painting techniques and materials.

Terri's art classes are great because they offer:

Individual Attention – Only 4 Students per Class

Drawing Painting & Sculpting

4-Week Sessions & Flexible Scheduling

Call or email to register for classes for your child.

Children's Art Classes
Terri Schmitt's Art Studio, Brazee Street Studios, 4426 Brazee St, Cincinnati, OH 45209

Tuesday mornings, 10:00 am – 11:15 am and afternoons, 1:00 pm - 2:15 pm

$100/student for a 4-class session and a $20/student materials fee per 4-class session

Payment: Please make checks payable to "Terri Schmitt Limited". Paypal and credit card payments are also available. Please email Terri: studio@terrischmitt.com or call her at 513-382-5029 for more information.

---